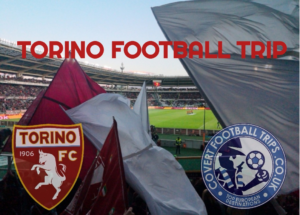 The Torino Football Trip was stage two of our Italian Double Header.  Last week we reported on Milan which had been  the first part of this weekend which you can read here.
I am sure when many fans consider a trip to Turin, the first name that springs to mind is Juventus.  After all they are one of the top clubs in Italian football who have celebrated 35 Serie A Titles and  Champions League Trophies.  Let's not forget that they also possess Cristiano Ronaldo's signature.
As a double header, the previous day we had seen Juventus play at The San Siro and conveniently Torino were to play the other team from Milan who wear the Red and Black!
Torino FC
Tornio have a strong history and whilst I had been looking ahead to the previous days visit to Milan with great enthusiasm, the Stadio Olimpico experience was going to offer something different and secretly I had been looking forward to this one even more.
Torino were formed in 1906 and are represented by a strong maroon kit, famous across the world.  Just as revered as the colours is the logo, 'Il Toro' (The Bull).
Turin
We arrived in Turin from Milan on the day of the match and due to the evening kick-off we had the entire day to wander around the city.  We headed to Piazza San Carlo which is one of the main squares in Turin.
It was a very warm day as we sat outside of Caffe San Carlo, looking across the magnificent square and at the same time looking ahead to the match – helped along with a few beers, some local cheeses and chips.  It certainly wasn't cheap but it was a nice relaxed couple of hours after a bit of travelling and a long previous day in Milan.
Pre-Match
Tickets for this match on our Torino Football Trip were relatively easy to obtain, even though this was a significant match in their season against AC Milan.  Going into the match Torino had the opportunity to push towards a European place.
We arrived early and spent time in the large outside area next to the stadium.   There was one large food and drink venue which everyone was gathering around.  It seemed as good a place as any so we placed multiple orders however it took at least 20 minutes to be cooked and passed over.  Whilst busy they did seem to know what they were doing and who had ordered what.
Inside Stadio Olimpico Grande Torino
The Stadio Olimpico holds a good 28,177 spectators and when full as on this Sunday Evening it made for a fantastic atmosphere.  Immediately in-front of us was an iconic Bull Statue which really stood out and just oozed Torino.  The word Torino means "Little Bull" in Italian and to know more about the history of the Torino Bull and the club crest then take a read of this excellent piece.
Before the match it was clear that the fans here were vocal and passionate as song after song was blasted out, it was a really incredible atmosphere, better than expected.
Superga Disaster Anniversary
Before anyone completes a  Torino Football Trip, you must first understand their history and in particular the tragedy which has had a significant bearing on that.
The date of our Torino Football Trip was 28th April 2019 and this coincided with the weekend to mark the 70 years anniversary of The Superga Air Disaster which happened on May 4th 1949.  Torino were then the reigning Champions, in fact they were heading for their fifth consecutive title (which they were later awarded) when they were due to fly back from Lisbon following a testimonial match.  In thick fog, the plane crashed into the basilica wall killing all on board.
The Torino team of that era finished with a record goal difference of +92 in the 1947/48 season helped by a Serie A record victory of 10-0.   Whilst each team donated a player to Torino, the following season they finished 6th and they would never again repeat their former glories.  Since the tragedy have since recorded only one more title, right back in 1975/76.
For those visiting Turin, there is a memorial monument against the wall where the terrible incident occurred and the people of Turin are proud to say that their legacy is not forgotten.
At haf time in this match, there was a simply wonderful tribute.  The lights were dimmed as thousands of spectators shone their camera flashes as candles.  I recall turning round to one elderly lady who was weeping and clearly recalls that tragic event.  It was one of the most moving tributes I have seen inside a football stadium.
Torino 2 AC Milan 0
The match could not have gone any better from a home fans perspective.   Much coveted Italian striker Andrea Belotti stroked home a 58th minute penalty.  Belotti was a player I was looking forward to watching and his movement and touches were excellent.  He is clearly adored by the Torino fans and they responded with simple chants of "BELOTTI" after his goal.
It didn't take long for that lead to be extended, just eleven minutes as Remiro notched the second goal on 69 to clinch the victory which would see Torino move above their opponents into 5th place on 56 points – just two points from a Champions League berth.
As the match reached it's conclusion the stadium would become louder as Torino marched towards a fantastic victory.  Fans climbed the metal fence sepearating them from the pitch, not with an intent to climb over it but just to get as close to the pitch and the players as possible.  The stewards were happy for this to happen and clearly there is a respect between both groups.  The joy and singing was incredible with fans staying inside the ground long after the final whistle cheering their fallen heroes who had been celebrated earlier, and todays giants on the pitch.
The match itself had seemed fairly even, however there is something to be said about evening matches under the floodlights, and like in England, perhaps it created an even greater atmosphere than normal and I am in no doubt the energy within that stadium played a huge part in Torino winning this match.  This was Torino's first Serie A victory over AC Milan in 18 years and meant that they had now gone 6 games unbeaten.
The season finished however with AC Milan winning 4 of their last 5 matches and whilst Torino also had a good finish they were ultimately overtaken and sunk to 7th but what an incredible season they had.
A Torino Football Trip is very much recommended and we look forward to returning to Turin and comparing the experience at their local rivals.  Our Mystery Football Weekends could well send you to Turin and if you are enjoying our reports please do consider subscribing to our YouTube Channel.
We'll be back next week with a review of our trip to Borussia Monchengladbach as we back into Germany!