The Germany Euro 2021 Away Jersey may have just won Kit of the Tournament!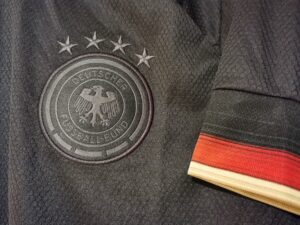 When the best bargain shirt hunter @Kitsbaia account on Twitter tagged me in this new shirt release  (originally scheduled for Euro 2020) I pulled the trigger quicker than you can say "Not another black-out shirt".   Frantically searching if I should size-up by scrolling through the product details (no need by the way) a wave of relief washed over me as I finally saw those words Order Complete or whatever the actual message was.
It was soon after that moment when I realised that there was probably no such panic needed in what will be a mass-produced item.  That's the impact of seeing so many other beautiful shirt releases sell out quickly, the fear it will happen to every shirt you want to own.  Of course I am not frustrated at all as I haven't paid any extra to be first (this isn't going to reduced pre-tournament I hope) and I have it here, right now.  In fact I will wear it tomorrow.
I only have one other Blackout shirt already, like many collectors I obtained a Borussia Monchengladbach 120 year anniversary shirt at the back end of last year.  That shirt was purchased partly on hype and partly because I needed a BMG shirt for my collection (my previously purchased jersey was a little snug so opted to size up on this occasion) however as a shirt it never hung on my prestigious wall other than for a one-off photo.  I felt whist it was a good shirt nothing on the front really shouted BMG until you look closely at the badge.
This is what I think is brilliant about the Germany Blackout Away Shirt – one look and you know it's a Germany Shirt.  The Black Red and Yellow is significant, yet the shadings subtle, that's due largely to the yellow strip actually being gold reducing the glare.  This trim on the sleeves representing the flag of Germany make this for me – without that colour it is just another blackout shirt.
Because of this Germany Blackout Away Shirt, whilst many people pray to watch Germany lose (I remember my Twitter feed during the 2018 World Cup when Mexico were hanging on for a famous victory), I will be routing for them – both for my love of German football but also that next match may just see them wear this beautiful shirt.
If you're looking for shirt releases early follow @kitsbaia as this isn't the first time I have been alerted to such beauties via this account.  Also special mention to @Lifestylesports who I hadn't heard of or purchased from before however a seamless process and delivery within 72 hours!  If someone asks you who you think will produce the best shirt of Euro 2021, you already know the answer.
If you love German Shirts why not follow us on Twitter @BundesligaBoxes and subscribe to our emails at www.covertfootballtrips.co.uk